Hello there, are you looking for the best automation tool for social media posts? Yeah! You are in the right place. Here I am going to tell you which is the best Automation tool out there.
What is an Automation tool?
An automation tool is like a personal robot. You need to set up your actions once, and the tool will do your tasks automatically even faster than you daily. Nowadays, there are lots of Social Media out there like Facebook, Instagram, Twitter, Linkedin, Pinterest. Suppose you want your post to be posted on your all social media account. To do that, you need to post everything on every platform manually. In this case, you need an automation tool so that you can have your cup of coffee, and the tool will work for you and get your posts posted on every social media platform. Enough introduction. Let's explore more about it below.
Which is the best automation tool available right now?
There are lots of Free and Paid automation tools in the market. But we need to go with the exact tool, which will be very helpful and comes with more advanced features than other competitors. If we are talking about the best automation tool, I can't stop myself from letting you know about the industry leader Publer. Publer is one of the best automation tools available right now in the market. There are lots of advanced features to say about it.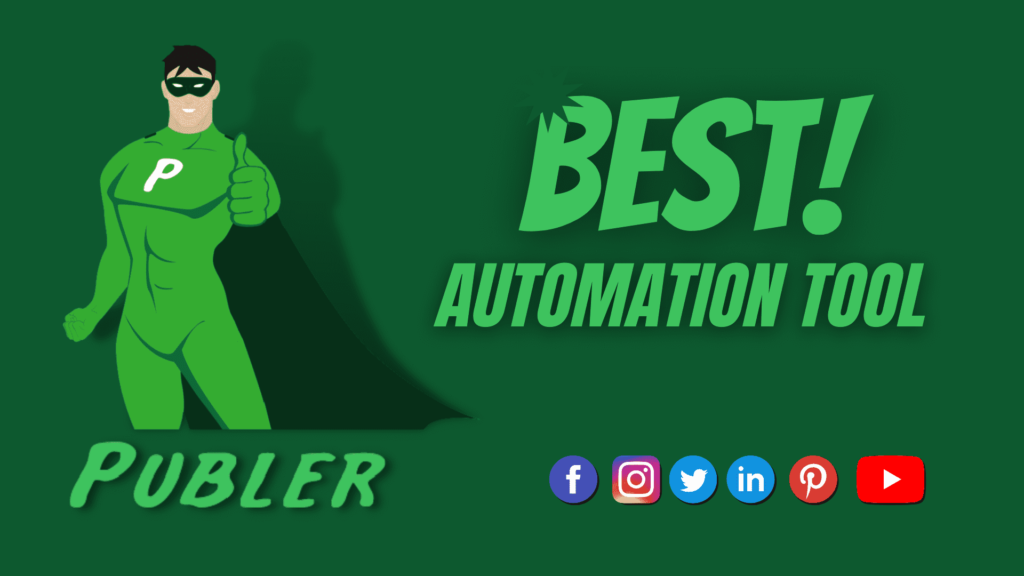 What is Publer?
Publer is a virtual social media posting automation tool that lets you publish your posts automatically according to your order on your every social media account. You are going to get almost all of the leading social media accounts to connect with it easily.
Why is Publer?
There are lots of features and opportunities under publer. Let's know why you should choose Publer!
Publer allows you to connect unlimited Accounts and team members to manage.
It allows you to schedule posts (Supports Image, Videos, GIFs), and even you can schedule your Youtube videos too. Also, it comes with an auto-scheduled function, which is my personal favourite.
You can schedule your posts in bulk upto 500 posts at once.
It has a draft function. I don't think that other automation tools are providing draft function.
It keeps 24 hours posts history.
Automatically update Status, links, single photos.
Before publishing, you can Customize and preview posts.
It has a Built-in photo editor too.
It supports Designing and Exporting Canva projects.
It gives you a Landing page to Link for Instagram Bio.
It supports Google Drive, Dropbox & Unsplash.
It has a Browser extension for market-leading browsers Like Google Chrome, Safari, Firefox, Microsoft Edge.
Check your projects on the Calendar view.
It allows you to create Shortcodes to make your workflow faster.
It has the function to shorten links with Bitly and Rebrandly.
Manage your all social accounts by grouping them.
It allows you to add a delay between each post.
You can add your brand watermark automatically to your photos and videos.
It supports auto RSS feed posting.
It Provides Unlimited Media Storage for Photos and videos.
It provides Analytics to track your matrics.
It has the option to Schedule follow-up comments.
It comes with Autoshare & auto-delete functions too.
Also, it has AI Content recommendation functions.
Lots of features are upcoming…
How to Use Publer?
To use Publer as your personal robot, you need to connect your Social Media Accounts with it and set up your Posts for publishing. The process to connect your social media accounts with the Publer automation tool is very simple. You need to give access to Publer for your account. Also, a detailed guide on Connecting has been provided on Connecting page for each social media. After connecting, you will get a dashboard to manage all your tasks. Also, you are going to get updates via the Publer blog about Upcoming Features, Updates, Tips and Tricks.
Daily post limit?
There are drawbacks with all of the automation tools, that is, the posting limit. In Publer, there is also a limitation. And mark my word this is good for us. Let me explain. If we post hundreds of posts on a platform like Facebook daily, then our Facebook account might get banned permanently.
| Posting Limit by Account | Free Plan | ARGENTUM (Silver) | AURUM (Gold) |
| --- | --- | --- | --- |
| Facebook Page | 12 | 24 | 36 |
| Facebook Group | 10(5 links) | 20(7 links) | 30(9 links) |
| Instagram | 15 | 20 | 25 |
| Twitter | 150 | 300 | 450 |
| LinkedIn Profile | 10 | 12 | 14 |
| LinkedIn Page | 12 | 18 | 24 |
| Pinterest | 25 | 50 | 100 |
| Google My Business | 5 | 10 | 15 |
| YouTube | 5 (free trial) | 10 (free trial) | 15 |
Publer Features according to Plans:
Like every other tool, Publer is also coming with Free plans and Paid Plans. It is obvious that if any company comes into the market, they need to make revenue from the services they are providing. Let's now discuss about features of all available plans.
Free Plan's Features:
Total 5 Social accounts can be connected.
You can't add Team members with the free plan.
Add up to 50 pending scheduled posts.
25 saved drafts.
24 hours posts history.
Features:
Status updates, links, single photos.
Customize and preview posts.
Built-in photo editor.
Design with Canva
Link in Bio (free)
Drive, Dropbox & Unsplash
Browser extension
Calendar view
Auto schedule
Shortcodes
Link shortening
Group the social accounts
Add a delay between posts
Publer is allowing us to try most of the paid features for free.
Paid Plan's Features:
Plan name: ARGENTUM (Silver)
All features of the Free Plan are Included.
Unlimited scheduling & drafts.
Bulk scheduling(500 posts at once).
Media library(unlimited storage).
Export from Canva.
Link in Bio (premium).
Automatic RSS posting.
Analytics.
Watermark on photos.
Signatures.
Schedule follow-up comments.
Autoshare & auto delete.
Create additional teams.
Eternal post history.
Plan Name: AURUM(gold)
All features of the Free Plan and ARGENTUM(silver) plan are Included.:
Videos, Multi-photo posts, GIFs.
Hashtag suggestions.
Content recommendation.
Schedule Facebook Group albums.
Upload videos from URL.
Watermark on videos.
Schedule YouTube videos.
Design videos (with Crello Pro).
Automatically recycle posts.
Schedule recurring posts.
Spintax support.
Analytics reports (Coming Soon).
Publer Pricing:
Publer comes with the most affordable plans, from small businesses to Huge Businesses. There are two paid plans and one free plan. In the below section, you can see the price of each plan.
| Free | ARGENTUM(silver) | AURUM(gold) |
| --- | --- | --- |
| Price: $0 | $10.00 / month | $20.00 / month |
| $0 | $25.50 / 3 months | $51.00 / 3 months |
| $0 | $49.80 / 6 months | $99.60 / 6 months |
| $0 | $96.00 / year | $192.00 / year |
Publer Pricing
Support? Live Chat?
Publer has a dedicated support system. You can Chat with support executives easily. Also, they have Email support.
Conclusion:
This was the detailed instruction about Publer. I love using it and hope you are going to love it too. If there is any question in your mind, then please let us know. We care for you. Thank you for visiting us. Good Day.