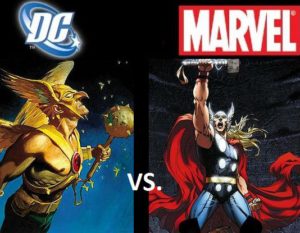 After Thor Ragnarok and Avengers infinity war Movie Thor's (God of Thunder) popularity has taken the speed of fire and become 8th most popular Superhero. Behind this success there are lots of Unknown facts about Thor, we need to know. Some of you told that Odin and Loki was seen in the movie Son of Mask. Many of you is unknown with this fact that DC also have their own Thor, Odin, Loki and Haimdall. After listening you gonna call me a mad, or will be busy with the topic to find out the truth. Don't worry I am here to solve your confusion. So, without delay have a look.
[wpp]
Character of Thor , Odin , Loki, Haimdal etc are all taken from Norse Mythology. Who here don't know about Norse Mythology go through my words. You can tell Norse Mythology a very Old book in which there were many God's story and at that time people Worships of those Gods. But it changed with time. And it became a Mythology. Marvel took some concepts and famous characters from it and included it into Marvel Comic. There is no one who holds Rights of Norse Mythology because it is only written on Old Stones and Walls, that's why Marvel took Concepts and Characters easily with having any issue. In 1962 Marvel Released Thor's own version in Journey Into Mistery's Issue No 83. On the other hand DC introduced Thor in The Comic series Brave and The Bold Issue No 03 In 1956. But DC's Thor can't become famous like Marvel and for that DC removed Thor's Character from comic. As the characters of Thor taken from Norse Mythology and no one to hold Characters Right, you too can use Thor Character but it is too hard to say that your Character can leave Marvel's Thor behind. Only Marvel & DC haven't used the Characters they were seen or heard in many Movies like Son of Mask, How to train Dragon, Supernatural (Tv series) etc. If you wann a know more About Norse Mythology you can Read This Book 👉 Norse Mythology.
If you have any more information about this please let us know by comments. Also let us know whose fan you are?